Beautifully Broken - Crotchless G-String Panty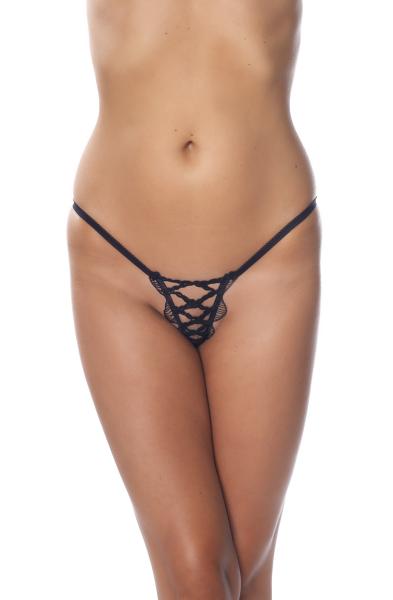 Beautifully Broken - Crotchless G-String Panty. You don't often hear a sexy g-string panty described as subtle and lovely, but in this case those adjectives truly apply. This is one of the most carefully designed and cunningly crafted lace g-string panties we have to offer. DSemi-circles of fine sheer lace frame the crotchless triangle front opening that is further decorated by a crisscross pattern of superbly styled webbing. Wear this panty under your day wear if you want to feel gorgeous and sexy morning till night. Or else just match it with a pair of stiletto heels from Body Body for a maximum sexy lingerie effect. Turn yourself into a work of art.
This elegant and fashionable thong panty is part of Body Body's signature thong panties collection. We have gathered together our stylists' selection of the sexiest and most beautiful thong panties to give the adventurous woman the pleasure and attractiveness in a thong panty that she deserves. Acquire a unique thong panty from Body Body's sexy Better Than Nude Thong Panties Collection today.
This G-String is made of 80% Polyester and 20% Nylon. Color Black. One size fits most. Exclusive European sex toys and erotic lingerie only at Body Body. Think sexy. Think Body Body.
Sexiness
Crotchless
Open Crotch Thong
$24.95
Price in reward points: 29138
Product Code:

1332

Reward Points:

125

Availability:

5

Usually ships in 1-2 weeks
Tags: Beautifully Broken - Crotchless G-String Panty, ,