Enchanted - Gold Vagina Jewelry with Penis Charm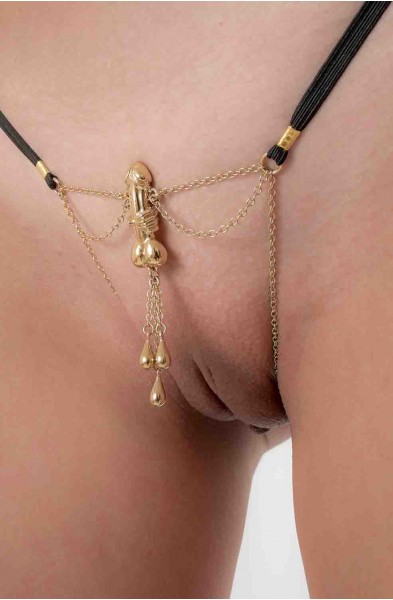 Crotchless G String With Gold Vaginal Chain
Penis Charm
There are many benefits to wearing crotchless jewelry. For one thing, it's comfortable and can be worn with just about anything. This type of jewelry does not cover the lady bits, leaving cheeks exposed. Because crotchless lingerie does not cover the crotch area, it's like having no underwear at all, but with more freedom of movement. Crotchless women's jewelry is one of the most popular forms of erotic jewelry because it can be worn comfortably and without the embarrassment of showing off your vagina.
Crotchless vaginal jewelry is an excellent choice for foreplay or intimate play. Soft stretch elastic straps feel smooth against your skin and allow for discreet exploration. Gold g-strings also have an open crotch for discreet exploration.
A gold vaginal chain can be a stylish way to dress up the pelvic area of a woman. These chains are usually made of gold or silver and have a rhinestone or other gemstone embedded in the device. Typically, the stones are synthetic, but genuine diamonds, rubies, sapphires, and other gems can be used. The chain's decorative piece may be made from a variety of materials, including gold or silver, and is easily maintained.
The purpose of these chains is to make a woman feel sexy and attractive to her sexual partner. The chains may feature a gemstone or attractive charm and have a designer shape to give the wearer more sensual pleasure. There are many ways to accessorize a gold vaginal chain, and each type has different designs and styles.
A gold vaginal chain commonly matches a gold bra. Gold plated brass links are preferred, but alternate materials include silver, platinum, and white gold. The link shapes, such as those with circular or oval cuts, determine the style of the chain. While they must be comfortable against the skin, different styles are appropriate for a vaginal chain. And you can even wear your gold vaginal chain with a tank top!
1 micron of 16 carat gold plate finished with 9 microns of 24 carat gold plate. Soft stretch cotton elastic for perfect positioning and adjustable fit. Available in sizes S, M, L, XL, XXL & XXXL. Painless non piercing vaginal jewelry. Hypoallergenic. Artist designed and hand crafted in Paris. Free shipping. Buy our jewelry for your vagina now. Think erotic. Think Body Body.

Precious Metal
Plate
Gold Plate
Sexiness
Crotchless
Crotchless Vaginal Jewelry G String
$104.95
Price in reward points: 73780
Product Code:

DX89

Reward Points:

410

Availability:

5

Usually ships in 1-2 weeks
Tags: Enchanted - Gold Vagina Jewelry with Penis Charm, DX89, Crotchless Panties