Babyfather - Gold Penis Chain with Hematite Gem Tassel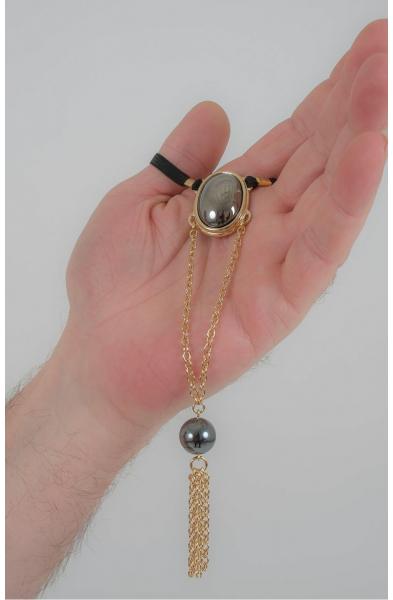 24 Carat Gold Plated Jewelry for Your Penis
Non-Piercing Penis Jewelry
Body Body's high quality, hand crafted gold penis chain with a hematite gem tassel will look great under your favorite outfit without causing any pain or discomfort. This stylish accessory makes an excellent gift for yourself or someone who loves unique gifts!
Penis jewelry is a type of accessory that you wear to enhance your penis appearance. You can use it for different reasons, such as an enhancement or a fashion statement. The types of penis jewelry range from rings and studs to chains and balls. They come in many different colors, shapes, sizes, and materials so you're sure to find one that works for you!
This penis chain is the perfect way for men who want to wear something masculine yet stylish at the same time. The hematite gem tassel adds just enough color without being too flashy or gaudy. This piece can be shown off under formal attire or jeans depending on the occasion.
Trust us, the ladies won't be able to resist your charm when you show up wearing our 24 carat gold plated cock chain with hematite jewel. Crafted from the finest metals, this beautiful piece is a man's best accessory—available in one size that fits most men. So put it on tonight and come out swinging!
Ladies, this is a great gift for your mate.
Finding the perfect gift for a man is hard, especially when you're looking to find something that he'll love and wear every day.
We all know that men like to show off their jewelry, but most of them don't want anything too flashy or expensive. They just want something simple and elegant they can wear everyday under their favorite outfits.
Body Body has the perfect solution with our gold penis chain. This cock chain is an exquisite piece of jewelry made from high quality materials so your guy will love it as much as you do! The cast and heavy gold plated chain is comfortable and suitable for daily use while still being stylish enough to be worn out on dates or special occasions!
Quality Craftsmanship
Soft stretch cotton elastic and a metal chain for perfect positioning and adjustable fit. You'll never have to waste time worrying about it coming off in public places because this will stay on!
These are for all the men out there who know what they want in life. Wear it with confidence knowing that this piece is sure to turn heads. These sexy, yet masculine pieces are made to last. This gold chain is delicate enough for any occasion. Make this piece yours today at a very affordable price that will fit into any budget. Be different - be unique, dress up or down with Gold Penis Chains from our store now.
1 micron of 16 carat and 9 microns of 24 carat gold plate. Hypoallergenic.
Artist designed and hand crafted for Body Body in Paris. Free shipping. Buy our non-piercing cock jewelry for your penis now. Think erotic. Think Body Body!
Precious Metal
Plate
Gold Plate