Garden Party - Sheer Crotchless Panty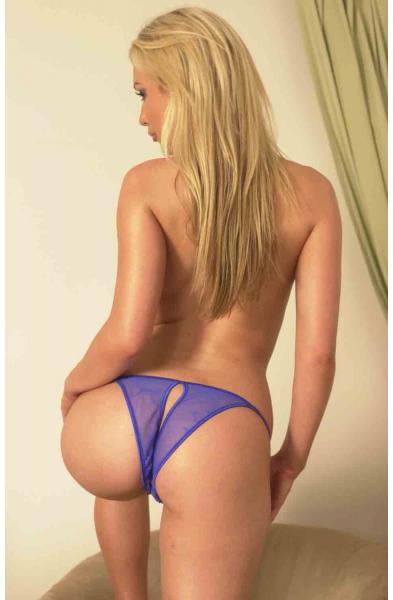 Garden Party - Sheer Split Crotch Panty
Crotchless and Backless for Total Exposure
Relive the freshness of spring and new love in our light as a whisper split crotch panty in wide see-through lace. Spaghetti side straps and totally exposed back. These panties are designed for daring sex. Inviting openings beckon vaginal and anal sex. And why not try a three way? This sexy sheer crotchless panty will make it ever so much more fun. Abandon yourself to the romance of sheer lingerie.
This elegant and fashionable crotchless-backless panty is part of Body Body's signature crotchless panties collection. We have gathered together our stylists' selection of the sexiest and most beautiful crotchless panties to give the adventurous woman the pleasure and attractiveness in a crotchless panty that she deserves. Acquire a unique crotchless-backless panty from Body Body's sexy Better Than Nude Thong Panties Collection today.

Our sheer Garden Party open crotch and backless panty comes in colors Cobalt Blue, Virgin White and Midnight Black. 85% Nylon 15% Spandex. Four way stretch means one size fits most. Sheer crotchless panty by Better Than Nude. Shot on location in South Beach. Model Kayden Kross. Think sexy. Think Body Body.
Finish
Fabric
Sheer Lace
Sexiness
Crotchless
Crotchless and Backless