Bad Influence - Satin Open Cup Sling Bra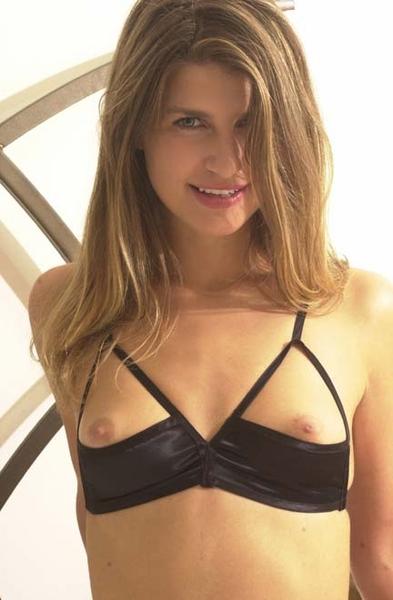 Bad Influence - Satin Open Cup Sling Bra. The silky feel of satin, the sexual excitement of an open cup bra. The soft satin band caresses your flesh and offers minimal support to expose your breasts to their best advantage. Strong adjustable shoulder straps and back clasp. Your skin tingles at the very thought of wearing an open cup bra. This open bra is perfect as your sexiest piece of lingerie, for fetishist play acting or even for a real life nursing bra. It comes in three sexy colors and a variety of sizes. This Time It's Love is a Body Body exclusive. Colors Virgin White, Midnight Black and Devil Red. Size S M L 85% Nylon 15% Spandex. Better Than Nude. Model Shayla Anderson. Think sexy. Think Body Body.
"Come over beside me on the couch and sit down," she says. You move over beside her and wait for what's next. She looks into your eyes and starts slowly unbuttoning her shirt. With the undoing of each button you could see more and more of her massive breasts, which are covered by the nursing bra. When she got about half of the way down her shirt, she says "OK, now lie down on my lap on this pillow". You turn your body and lay your head down onto her lap and look up into her chest.
$31.95
Price in reward points: 34759
Brands Better Than Nude
Product Code:

B25

Reward Points:

150

Availability:

5

Usually ships in 24 hours
Tags: Bad Influence - Satin Open Cup Sling Bra, ,