Silver and Lambskin Women's G-String Panty With Cat and Pearl Charms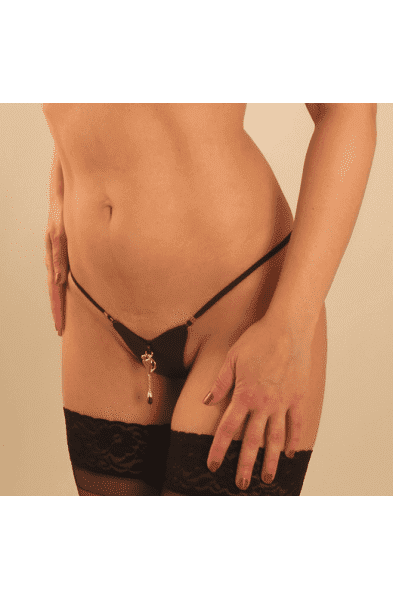 Silver and Lambskin Women's G-String Panty With Cat and Pearl Charms. Women's Leather G-String with Cat and Hematite Pendant in Silver. It's a fine day for a white wedding with an embrace of soft materials. The silver engages the leather gently, sensually and ecstatically. The cat and hematite pearl almost caress the lambskin as much as it quietly touches your own skin. This is a jeweled g string that is utterly rare, arousing and fetishistically inviting.
Fine lingerie jewelry that matches perfectly our Silver Breast Chain with Hematite Pendant Cat and Moon (See below).
Mariage troublant de matières douces qui se mélangent... L'Argent épouse le Cuir tout en douceur avec ravissement et sensualité... Le Chat et la Perle Hematite semblent caresser le Cuir, autant qu'il vous caresse... Un Bijou String rare, si troublant, si fétiche !
Description
Grace à ses élastiques en coton doux et tres souples vous positionnez le String Bijou à la perfection.
Matière
String Cuir agneau très souple. Elastiques coton doux cotés et dos. Ornements Argent 750/000 : Chat et Perle Hématite en pendentif. Hypoallergénique.
Nos conseils d'entretien
Pour entretenir le Cuir de votre Bijou utilisez tout simplement une éponge humide.
Size Map
Small waist 24-26 in. Hip 33-36 in. - S
Medium waist 26-29 in. Hip 36-39 in. - M
Large waist 29-31 in. Hip 39-42 in. - L
XL waist 31-33 in.Hip 42-45 in. - XL
XXL waist 35-43 in. Hip 45-53 in. - XXL
Care instructions: Clean with a damp sponge.
Details:
Color Silver and Black. Sizes S M L XL and XXL. Silver plated cat and chain ornaments 10 microns 750/000. Hematite pearl pendant. Lambskin panty. Soft cottton elastic straps front and back. One size fits most. Hypoallergenic. Cat and moon charms with hematite teardrop pendant. Made in France.
This exclusive women's g-string and silver jewelry combination is part of Body Body's unique panty and erotic jewelry collection. We have gathered together our selection of the finest and most stylish women's g-strings and silver jewelry on the market to give the adventurous woman the lingerie and and erotic jewelry that she deserves. Get panties and erotic jewelry from Body Body today.
Great for sex. Think erotic. Think Body Body.