The Mighty Storm - Fine Belgian Lace Crotchless Backless Panty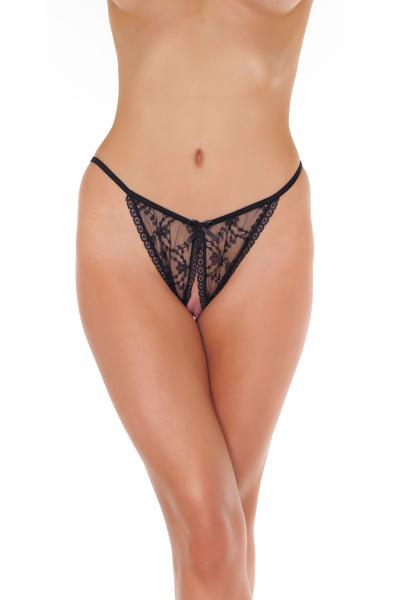 Fine Belgian Lace Open Crotch Tanga Panty
Backless Lingerie for Adventurous Sex
The Mighty Storm - Sexy Crotchless Backless Panty. Comfort is at the top of the list with this beautiful open tanga. Black embroidered Belgian lace is the soft, not glued on, accent. This simple classic panty can be worn under your most fashion forward casual clothes like designer jeans or mini skirts. It comes into its own, however, when you are otherwise nude. The beautiful Belgian lace design shows off your figure to its best advantage. Since it's crotchless it facilitates intercourse from the from. As a sexy open back panty you can wear it for rear or double penetration. This sexy bikini panty will definitely make a difference in your sex life.
This elegant and fashionable thong panty is part of Body Body's signature thong panties collection. We have gathered together our stylists' selection of the sexiest and most beautiful thong panties to give the adventurous woman the pleasure and attractiveness in a thong panty that she deserves. Acquire a unique thong panty from Body Body's sexy Better Than Nude Thong Panties Collection today.
100% nylon. This sexy panty in sheer or crotchless is one of the gems of Body Body's collection of sexy panties. Made from the finest Belgian lace or European satin or PVC, this panty is a must add for your panty drawer. Get it now. Comes in colors black, red and white. One size fits most. Think sexy. Think Body Body.