Bootylicious! - Fishnet Booty Panty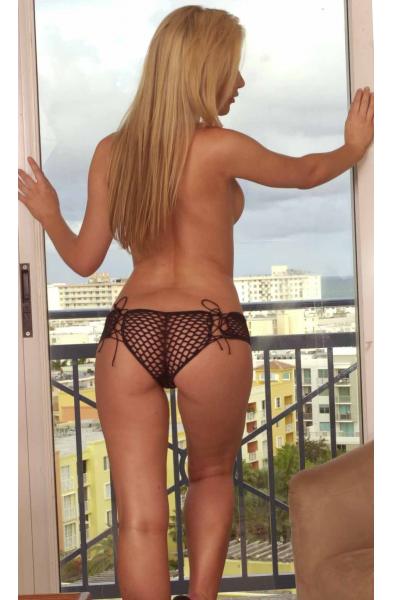 Sexy Fishnet Panties
Hipster Booty Short Panty Lingerie
Bootylicious! - Waffle Fishnet Booty Panty is a seductive irresistible pair of booty shorts. Dynamically designed panty that is sleek and sexy and narrow in the front but wraps around your booty in the back with decorative ties for a perfect fit. These are the ultimate in sexy panties. Tie side design element molds the panty to your body. Wear these under clothes or be daring and wear them all by themselves. Be sure to match them with our sexy open cup bras (See below). Color Black. 85% Nylon 15% Spandex. Four way stretch means one size fits most. Booty shorts by Better Than Nude. Model Kayden Kross. Shot on location in South Beach. Think sexy. Think Body Body.
If you are looking for a great way to show off your figure, see through fishnet panties might be your best option. Sheer panties are made of semi-transparent material that hides your body imperfections while making your bare skin look smoother. But be careful: not all see through underwear is as comfortable as it may appear to be. Here are some tips to ensure that you get the most comfortable pair of see-through panties.
Hot see-through fishnet panties are designed for women and will turn heads everywhere you go. They feature an elastic waistband and side straps. They let you show off your curves without being too revealing, and are ideal for nightclubs and erotic wear. A great pair of these pants will make you the most beautiful woman in the club. They also come in a wide variety of styles.
Better Than Nude offers many styles and colors. Some are lace, tulle, floral embroidered, and mesh. Whether you want to show off your tummy or just feel confident, they will make you look and feel sensational. Choose a pair that you can wear everyday. To show off your assets or to just feel daring, see-through lingerie is a great choice.
$21.95
Price in reward points: 23798
Brands Better Than Nude
Product Code:

W-P4

Reward Points:

100

Availability:

4

Usually ships in 24 hours
Tags: Bootylicious! - Fishnet Booty Panty, ,