Naughty Baby - Sexy Schoolgirl Costume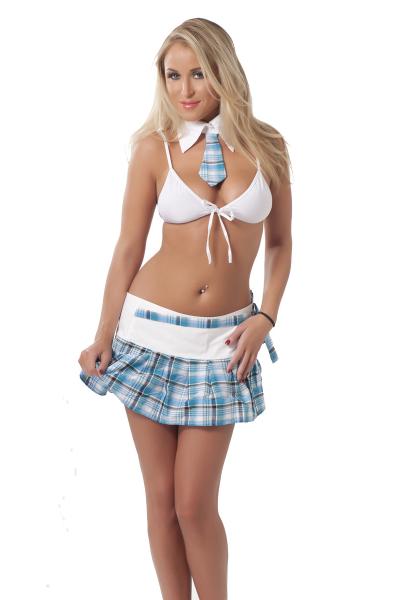 Naughty Baby - Sexy Schoolgirl Costume. This is just about the perfectly seductive schoolgirl costume. It comes with a soft triangle top bra that ties at your cleavage for a perfect fit and a shoelace decorative effect. The bottom is a little miss apron skirt in ultra mini short blue plaid. And every obedient schoolgirl needs a color and tie in her very own school colors. Are your school colors baby blue and white? Well, you've found the perfect costume for sorority and frat parties as well as Homecoming Weekend. Or if you dance close to campus, think of the tips you will make when you appear in this little number.
The bell rang for class to end, so I quickly gathered up my books and supplies, ready to leave the classroom. But before I got to the door teacher grabbed me by the arm to prevent me from walking away and said in a professional tone. "Excuse me, miss, I will have you see you after class." "Is there something wrong?" I asked. He just smiled at me. "No, nothing of the sort. I just need you to catch up some of your homework from the class you have missed last week."
Blue and White "Naughty School Girl" Set 3 Pcs - Sexy Lingerie. 90% cotton 10% elastane.