Ready for It? - Penis Bracelet with Gold Marilyn Lips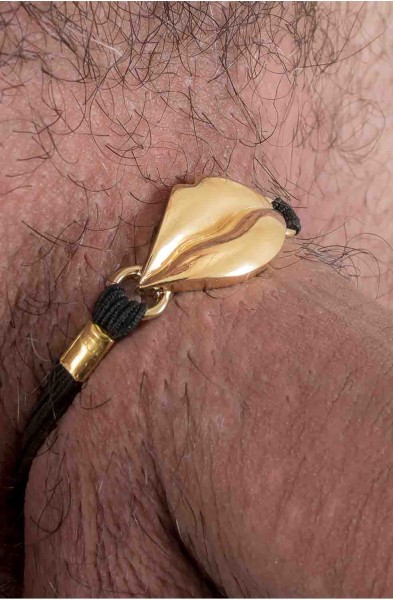 24 Carat Gold Plated Jewelry for Your Penis
Non-Piercing Cock Bracelet
Ready for It? - Ready for what!? Do we need to spell it out? Look at those lips and look where they are. 'Nuf said. Penis Bracelet with Gold Marilyn Lips is a fun and stylish penis accessory. This penis jewelry piece can even be worn under a costume or formal wear. In addition to its stylish looks, the penis accessory is surprisingly functional. It might increase the amount of blood in your penis and help extend your erection.
The gold cock jewelry is the ultimate in erotic jewelry and is a great way to show off your manliness. The cock is adorned with 10 micron 24 carat gold and is applied by a jewelry artist in Paris. It is sure to attract attention at a nude beach or sex club, but it is also a great gift for a lover.
Men wearing cock jewelry report increased blood flow to their penis and have a harder, more textured penis after using it. During sexual intercourse, men wearing this jewelry also report greater orgasms and more intense orgasms. This is because it prevents blood from escaping the penile tissue. A good way to ensure that your manhood is in tip-top shape is to use it during your next erection.
Soft stretch cotton elastic and a gold metal charm for perfect positioning and adjustable fit. You'll never have to waste time worrying about it coming off in public places because this will stay on!
1 micron of 16 carat and 9 microns of 24 carat gold plate. Hypoallergenic.
Artist designed and hand crafted for Body Body in Paris. Free shipping. Buy our non-piercing cock jewelry for your penis now. Think erotic. Think Body Body!
Precious Metal
Plate
Gold Plate
$59.95
Price in reward points: 59950
Product Code:

T298

Reward Points:

350

Availability:

5

Usually ships in 1-2 weeks
Tags: Ready for It? - Penis Bracelet with Gold Marilyn Lips, T298, Penis