Whisper Micro Bullet - Purple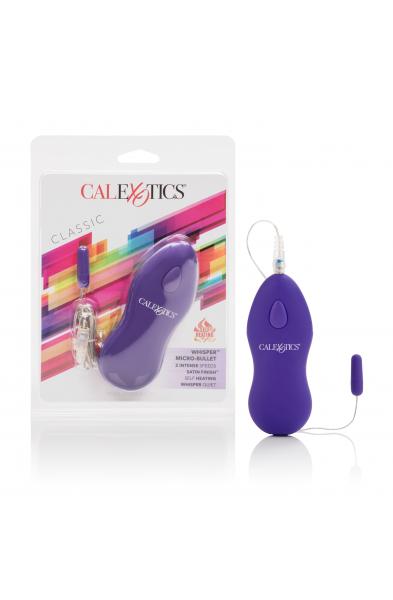 The Whisper Micro Bullet is every woman's little secret. It features a small 1.25" by 0.25" micro bullet plus an easy-to-use control pad with quiet, yet powerful 2-speed vibrations and a self-heating function to increase blood flow in your erogenous zones. Designed to be whisper quiet, the body-safe bullet with its 2 speeds of vibrations will send your senses crazy while remaining completely discreet wherever you are.

If you're looking for the perfect starter product for intimate massage alone or sensual foreplay with a partner, this makes an ideal toy - but it's also great for advanced users who are looking for a small, discreet and easy-to-use massager for playtime at home or away. This super slim, self-heating micro bullet device is small enough to slip into your handbag or luggage carrier so it's a fantastic product for those with busy lifestyles or for users who are always on the go.

Made from Rubber-Cote material, the bullet is silky smooth so it feels amazing on the skin and it's safe enough to be used all over the body. Plus it's so simple to operate with an easy push button control for selecting the 2 different speeds. This micro bullet with its unique warming and vibrating can be used with lubricant for added pleasure and can be easily cleaned after use.