Until I Break - Strap Bra with Rubber Hoops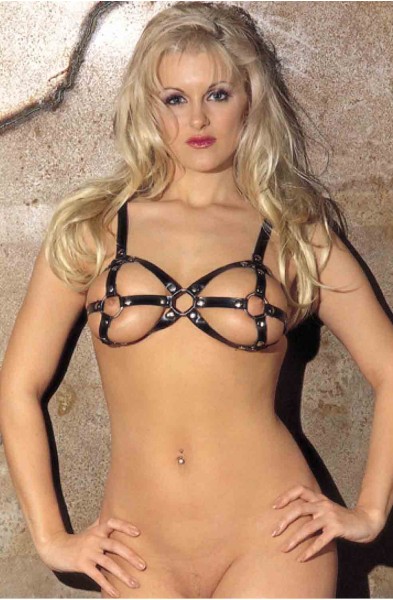 Leather BDSM Outfit
Open Cup Nippleless Bra
Strap Bra with Rubber Hoops
Adjustable with Buckles
Until I Break - Strap Bra With Rubber Hoops combines firm support and eye-catching style. This bra features a high-quality leather and an adjustable strap, making it perfect for long term wear. It has a comfortable shape and is made to keep your breasts in place. The bra also has a firm band to hold your breasts in place, while preventing them from separating or compressing.
The straps are comfortable and supportive. They have a medium support, and the leather is smooth. This bra is made to keep you cool and comfortable during the most intense bondage sessions.
The straps of Until I Break - Strap Bra With Rubber Hoops have rubber hoops at the front. The belt style on the back makes the straps adjustable.
The Strap Bra with Rubber Hoops was designed to control movement by compressing the breast tissue close to the body. The boobs are kept in place by the firmness of the leather. This bra is designed for a good fit. You will not feel uncomfortable pressure on your breasts.
In Use
"During the show, Mistress Olga had the woman strip naked. After she had stripped away her piss pants, she bound her up with leather straps. Then, the straps were covered with sandpaper-covered rubber hoops. Tina groaned as she was tied down by the straps, while the spikes pricked her pussy.
The straps were tightened over the tits by Catherine's knees. The cables protruded from her ass and caused her crotch to scream. The cables, which were studded with spikes, grew thicker as she tried to breathe. The serrated straps of the bra would bite into her pussy and ass, but Tina didn't know whether to fear them or not."
Buy Now
Created from the finest materials in Amsterdam's famed Red Light District for Body Body. Wear the finest bondage gear available now. Think erotic. Think Body Body.