Salo - Open Bra with Chain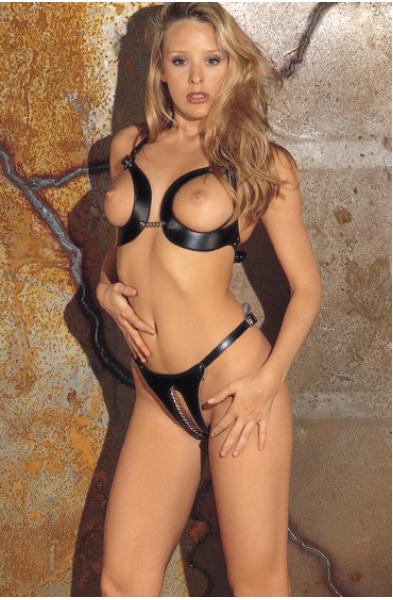 Leather Bra for BDSM
Fetish Bra for Dommes and Subs
This item is high quality hand selected for softness, double thickness, real leather. All edges are stitched for fashionable decor. Shoulder straps and back are adjustable with buckles (3 places). Available in sizes Small/Medium and Medium/Large. Created from the finest materials in Amsterdam's famed Red Light District for Body Body. Wear the finest bondage gear available now.
Open bras with chains have long been a staple of the BDSM subculture, but not many people know that these bras are often used as a form of corporal punishment. As such, they can be an extremely uncomfortable way to control your partner. In the bedroom, though, a simple open bra with chain can have far-reaching consequences. In order to establish trust and mutual respect, most couples set up a "safe word." By doing so, you are allowing each other to develop a deeper relationship.
A bondage bra is very different from a regular bra. In a BDSM session, the wearer wears a leather bra. Often, it is a full-length bra, with a small chain attached to it. This type of bra will elevate your breasts, forcing them forward. The most common types of bras will be open-tipped, with a three-inch circular opening. In addition, they are generally tighter than the average bra.
An open bra with chain for Bondage and Discipline is not for everyone, but many people who engage in BSDM report having a more satisfying sex life. It is a common method of sexual intercourse and is often used by therapists. Some couples even use this technique to help their children learn about their body and become more intimate with their partners. Despite this, it should be noted that the technique is highly sensitive and should be performed under the supervision of a professional.